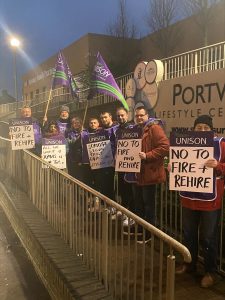 Pickets were outside Portway Lifestyle Centre and Tipton Leisure Centre 14 December 2021 on the fourth one-day strike at Sandwell Leisure Trust over their fire and rehire to remove staff away from national pay, terms and conditions.
The dispute is now over 12 months old and is the longest running dispute in Sandwell's history. It was good to see Councillor Bob Piper who turned up in solidarity. UNISON urges the Council to step and fix this dispute before the Commonwealth Games in 2022 when Sandwell's new £73million Aquatic Centre will host the Games.
Despite making promises not to change more terms until March 2022, management at Sandwell Leisure Trust have tabled disturbing proposals to include COVID absence within sickness targets and triggers.
UNISON, GMB and Unite the Union have tabled a 10% pay claim for 2022 or a return to national pay, terms and conditions, which could see more ballots from all unions in the New Year.
UNISON members will continue to take action until this dispute is fixed.
UNISON's General Secretary Christina McAnea tweeted her support – https://mobile.twitter.com/cmcanea/status/1470680272677089283