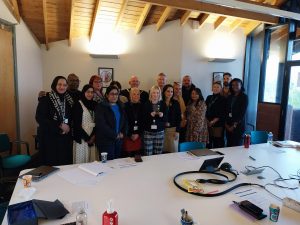 Congratulations to Family Solutions Team and Family Group Conference Team on winning Sandwell UNISON's Champions Award 2023.
The award is being given because of the excellent work undertaken with families in crisis and helping them find solutions to help keep children within their own families and networks, building on family strengths. You make a difference every single day.
This award is to say thank you.
Thank you for being highly responsive, going directly to families when they need help with relationships and when other professionals such as schools, health and Children's Services are worried that children are being harmed or when family relationships are breaking down.
Thank you for working across all areas of the Children's Trust and for being recognised by OFSTED in their most recent inspection, for providing a high-quality service to the children and families of Sandwell.
Thank you to being fully committed in helping children's families safely care for their children in Sandwell.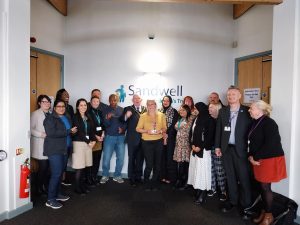 It's Champions Day on Wednesday 18 October 2023!
Celebrate the Local Service Champions where you work!
Do you work in local government?
Do you/your colleagues/your team provide a dedicated service that makes a difference ?
Are you/your colleagues/your team dedicated to providing an excellent service?
Do you/your colleagues/your team deserve recognition for the vital services you provide the public?
If so then complete the attached nomination form and submit it before Friday  6th October. Just email the attached to sandwellunison@btconnect.com
Champions Nomination Form 2023
Champions Day 2022!
Celebrate the Local Service Champions where you work!
Do you know colleagues that go above and beyond to provide an excellent service to the public?
If you do, why not nominate them to be a winner of Sandwell UNISON's first ever celebration of a public service champion.
On 7 December Sandwell UNISON will recognise a Sandwell service champion to highlight some of the essential and vital work we do across local government for our communities.
If you know a colleague who deserves recognition, then please nominate them by completing the nomination form below and emailing it to sandwellunison@btconnect.com by 30 November 2022. (Nominations for 2022 are now closed)
Champions Nomination Form 2022
And the Winners for 2022 were:-
#ChampionsDay. Congratulations to the Sandwell Enquiry Team for being the first ever winner of UNISON's local service champions award.
Sandwell Enquiry is the front-line service for Adult Social Care, taking all the calls from residents and referring them to the appropriate professional support the resident needs. The work at Enquiry is non-stop and it is where all the residents of Sandwell that need Blue Badges come too.
When the Covid-19 pandemic hit the Enquiry Team not only continued to undertake their normal duties but also received referrals for food parcels, winter grant applications and NHS track and trace, adding pressure on the Team. However, the Enquiry Team rose to the challenge.
The picture is of the Mayor, Richard Jones, presenting the Champions award to the Enquiry Team on 7 December.