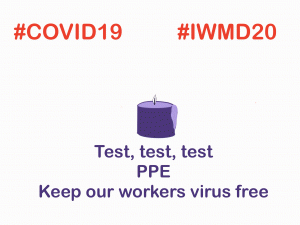 We all come to work to earn a living. None of us come to work to die or get seriously injured.
On the 28th April every year we remember the dead and vow to fight for the living at International Workers' Memorial Day events all around the world. The COVID-19 crisis has focussed everyone's minds on frontline workers who are risking their own health to help others in need of medical attention or social care, or running or vital public services.
This year UNISON is asking all members to observe a minutes silence at 11am on Tuesday 28 April.
For more about this year's minute's silence go here:
https://www.unison.org.uk/news/article/2020/04/remember-covid-19-dead-international-workers-memorial-day