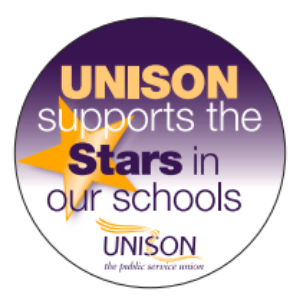 Friday 24 November is the day when UNISON celebrates the huge contribution of support staff to our children's education.
The aim of the celebration day is to showcase and bring attention to the vital work support staff do, every day, to help children progress, keep them safe and healthy and keep schools running smoothly.
There are a variety of support staff roles including teaching assistants, site managers, catering staff, welfare staff, technicians, admin staff and cleaners, among others.
As much of this work is done behind the scenes, support staff don't get the attention they deserve. This includes members working in early years settings, so not only will we be celebrating Stars in Our Schools, this year we'll also be celebrating Early Years Stars too.
All types of schools and early years settings are encouraged to take part this November. Over the past few years, primaries, secondaries, special schools, academies and faith schools have all got involved in a variety of ways – including holding special assemblies, coffee mornings, sports afternoons or learning events.
To nominate staff in your school please use the attached form and return by 6th November.
Sandwell UNISON Nomination Form 2023
The overall winners will have tea with Sandwell's Mayor.